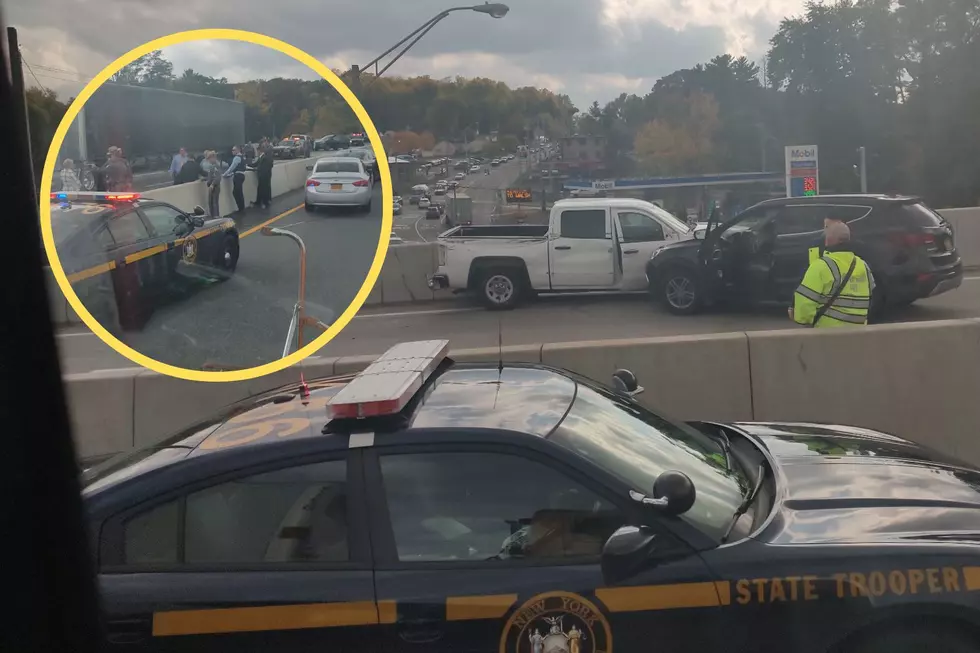 Nuevas fotos del accidente automovilístico del sospechoso de intento de asesinato en Newburgh
Douglas Vinson via Facebook
Traduccion por Jean Carlos Hernandez
La I-84 se cerró en Newburgh, NY a principios de esta semana después de un simple informe de "actividad policial". La historia pronto se volvió aún más seria, con informes de que el accidente fue causado por un sospechoso de intento de asesinato que huía conduciendo en dirección contraria por la interestatal de varios carriles. Nuevas fotos e informes de testigos ayudan a pintar una imagen más clara.
Sospechoso de intento de asesinato huye del condado de Rockland, Nueva York
La persecución se originó a partir de un incidente que ocurrió en las primeras horas de la mañana del lunes en un hotel en el condado de Rockland, Nueva York, cuando el sospechoso presuntamente atacó a su novia con un martillo. La persecución policial resultante atravesó varios condados antes de terminar con el choque en sentido contrario justo al oeste del puente Newburgh Beacon. Las fotos de un automovilista que pasa ayudan a mostrar el alcance del daño.
Persecución policial termina en choque en sentido contrario en la I-84 en Newburgh, NY
La foto (arriba) muestra una camioneta blanca mirando hacia el oeste en el carril hacia el este de la I-84, encajada entre la baranda de cemento y un SUV negro mirando hacia el este. El accidente y la actividad policial resultante cerraron el puente y provocaron horas de retraso.
Fotos de la persecución policial en el puente Newburgh-Beacon
Fotos adicionales muestran a la policía bordeando ambos lados de la I-84 mientras se preparaba una escena del crimen y se detenía al sospechoso. Afortunadamente, ningún automovilista resultó gravemente herido, pero podría haber sido una historia muy diferente. "El tipo venía de frente a mi esposo y él pudo moverse. Loco", dijo una mujer de Hudson Valley. Ella no estaba sola.
"¡¡Mi mamá estaba en la misma situación que venía directamente hacia mi mamá!!", dijo un residente de Fishkill. La buena noticia es que el sospechoso fue detenido sin más incidentes y está detenido por la policía de Clarkstown en el condado de Rockland, Nueva York.
The 10 Most Dangerous and Violent Cities in New York State [List]
The 5 Most Dangerous Roads In New York State
The most dangerous roads in New York.