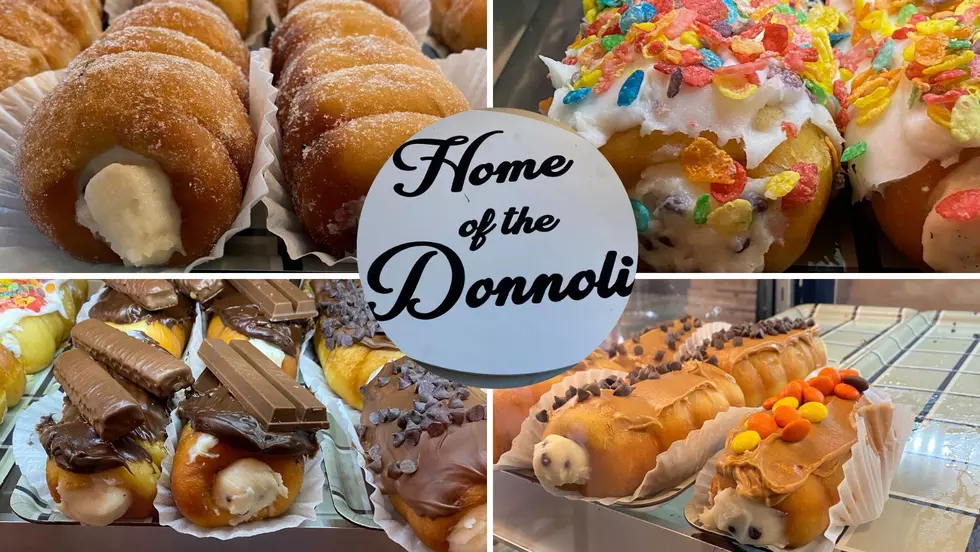 Santo 'Donnoli!' Donut, Cannoli Mashup Rolls en Beacon, NY
J.Buono
The Donnoli ha entrado en el chat.
Hudson Valley, Nueva York: un sueño para los amantes de la comida
El valle de Hudson se ha convertido en el centro de algunas de las mejores comidas del estado de Nueva York. Los amantes de la comida y las personas influyentes han viajado de cerca y de lejos para probar algunos de los mejores platos de la región central de Hudson.
Rossi 's es un lugar de moda para los influencers. En el pasado, Cug, Sam Ramsdell y Devour Power, los influencers populares en Instagram y Tik Tok, visitaron el popular restaurante Poughkeepsie.
Sin embargo, creo que estamos a punto de tener otro punto caliente en nuestras manos.
Big Vinny 's en Main Street en Beacon abrió sus puertas recientemente. Si bien venden pizza y otras delicias italianas, lo más probable es que su atracción principal sea The Donnoli.
¿Qué es un Donnoli?
Hablamos con el mismo Big Vinny, Vincenzo Vaccaro, quien nos contó todo sobre la dona, la creación de cannoli que cautivó a la ciudad de Nueva York y está lista para su debut en Beacon. Un Donnoli es exactamente lo que crees que es. Una dona larga, rellena de crema de cannoli. Vaccaro dice que si bien le gustan los cannoli normales, le gusta que sus postres tengan la misma consistencia.
Si estás pensando que el Donnoli es solo una rosquilla y crema normal, lamentablemente estás equivocado. Big Vinny's ofrece un puñado de diferentes sabores como Fruity Pebbles, Cookies & Cream y Cinnamon Toast Crunch.
Cómo obtener un Donnoli de Big Vinny's
Mientras que Big Vinny's hace su Donnoli fresco en casa, Vaccaro sugiere ordenar con
anticipación. Vaccaro tiene un menú que incluye los sabores de Donnoli favoritos de los fanáticos, como Oreo, S'mores, Nutella y Glazed, pero compartió que agregará los sabores que le lleguen esa mañana.
Rostro familiar de la red de alimentos
¿Te resulta familiar Big Vinny? Es posible que lo hayas visto en la pantalla chica. Después de ver un gran éxito en su panadería de Astoria Queens, se corrió la voz sobre Vaccaro y sus sabrosas creaciones. En el pasado, apareció en programas de Food Network como Guy 's Big Project y la temporada 3 de Holiday Baking Championship.
¿Ya tienes hambre? Si respondió que sí, visite Big Vinny 's en 207 Main Street en Beacon o puede hacer sus pedidos de Donnoli al 845-440-6757.
Holy 'Donnoli!' Donut, Cannoli Mashup Rolls into Beacon, NY
Donut + Cannoli = Masterpiece. Hudson Valley foodies will be flooding to Beacon for this sweet treat!
18 Hudson Valley Bakeries With the BEST Black & White Cookies
From Kingston to Poughkeepsie, to Ellenville and Newburgh. We've got the B&W cookie map covered for you. Who's down for a Hudson Valley Black and White Cookie road-trip-taste-test?
13 PAW-fect Dog Friendly Bars and Restaurants in Beacon, New York
These 13 PAW-fect Beacon businesses allow you to bring your pup along for fun times with friends and family.