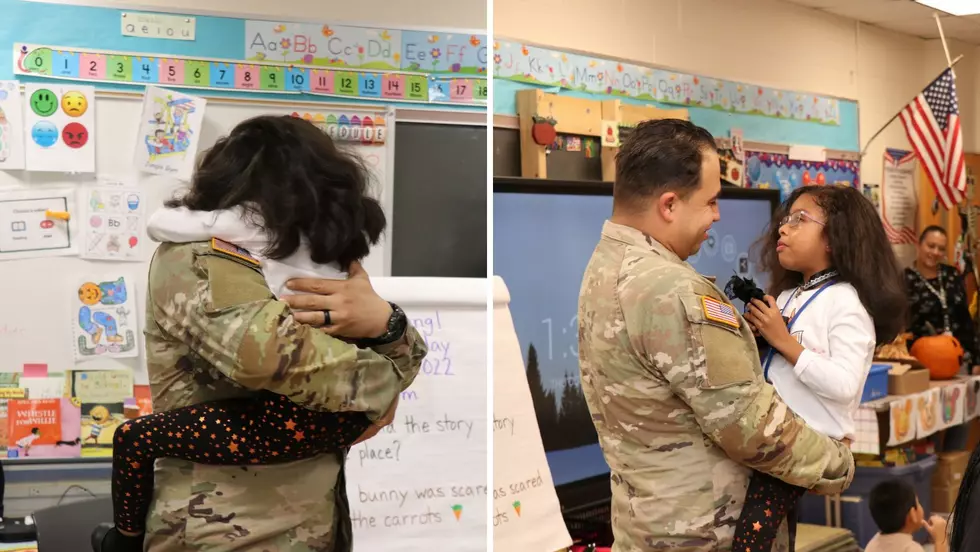 Vea una conmovedora reunión familiar militar en Newburgh, NY Elementary School
Newburgh Enlarged City School
Toma los pañuelos, esta historia te tocará el corazón.
No sé ustedes, pero yo nunca paso por alto un video de una reunión militar en Youtube o TikTok. Y cada vez, al final del video, estoy sollozando lágrimas de alegría. Bueno, un momento como ese sucedió recientemente en Newburgh, Nueva York.
A principios de esta semana, el Distrito Escolar Extendido de Newburgh preparó el escenario para la reunión, que tuvo lugar el 27 de octubre de este año, en Facebook en la que participaron uno de sus niños de jardín de infantes y su padre. Escriben:
El Sr. Ríos había estado alejado de su familia durante varios meses y estaba ansioso por reunirse con su hija. Gia y sus compañeros de clase no tenían idea de lo que les esperaba mientras escuchaban atentamente a su maestro leer un cuento. Mientras ella se sentaba inocentemente inconsciente en la colorida alfombra de su salón de clases, el Sr. Ríos entró en silencio. Estaba vestido con el uniforme completo y casi todos los estudiantes lo notaron cuando entró, todos menos uno.
Puedes ver en la foto a continuación que Gia no tenía ni idea de que su padre acababa de entrar al salón de clases:
Pero cuando el soldado de primera clase Nelson Rios camina entre los estudiantes hasta la línea de los ojos de su hija, puede ver la reacción inmediata de Gia:
Necesito una caja de pañuelos entera para este momento. Gia se vuelve loca cuando se da cuenta de que su padre finalmente ha vuelto a casa:
El Distrito Escolar Extendido de Newburgh compartió más de la  historia:
Cuando Gia finalmente levantó la vista, le tomó un momento procesarlo, luego sus ojos se abrieron como platos. "¡Papá!" exclamó ella, con un aullido lleno de alegría y sorpresa. Ella saltó a sus brazos y se produjo el abrazo más dulce. Gia inmediatamente comenzó a llorar de alegría y se agarró lo suficiente para sostenerse. No quería dejar ir a su padre. Su padre finalmente había regresado a casa.
La mamá de Gia, Eugenia Ríos, la abuela, la tía y el padrino estaban todos allí para la gran sorpresa.
Más tarde, mientras caminaba por los pasillos, el distrito escolar de Newburgh informa que "dos estudiantes de GAMS pasaron y Gia gritó con orgullo: "¡Tengo a mi papá!" Devuélveme esos pañuelos.
Bienvenido a casa soldado de primera clase Rios, gracias por su servicio. Y Gia, ¡disfruta de tener a tu papá de vuelta en casa!
Have You Seen the Military Memorial on this Hudson Valley Hiking Trail?
At the top of the Popolopen Torne trail, in Orange County, you'll be greeted with a breathtaking military memorial.
The Most Impressive Military History Museum Is Less Than 3 Hours From The Capital Museum
28 Distinguished Historic Figures Buried at West Point Cemetery
New York State is rich in history. West Point Cemetery acts as a national historic landmark and the final resting place for 28 historic figures. From Medal of Honor recipients and Military leaders to astronauts and other Military heroes, their final resting place can be found right here in the Hudson Valley.