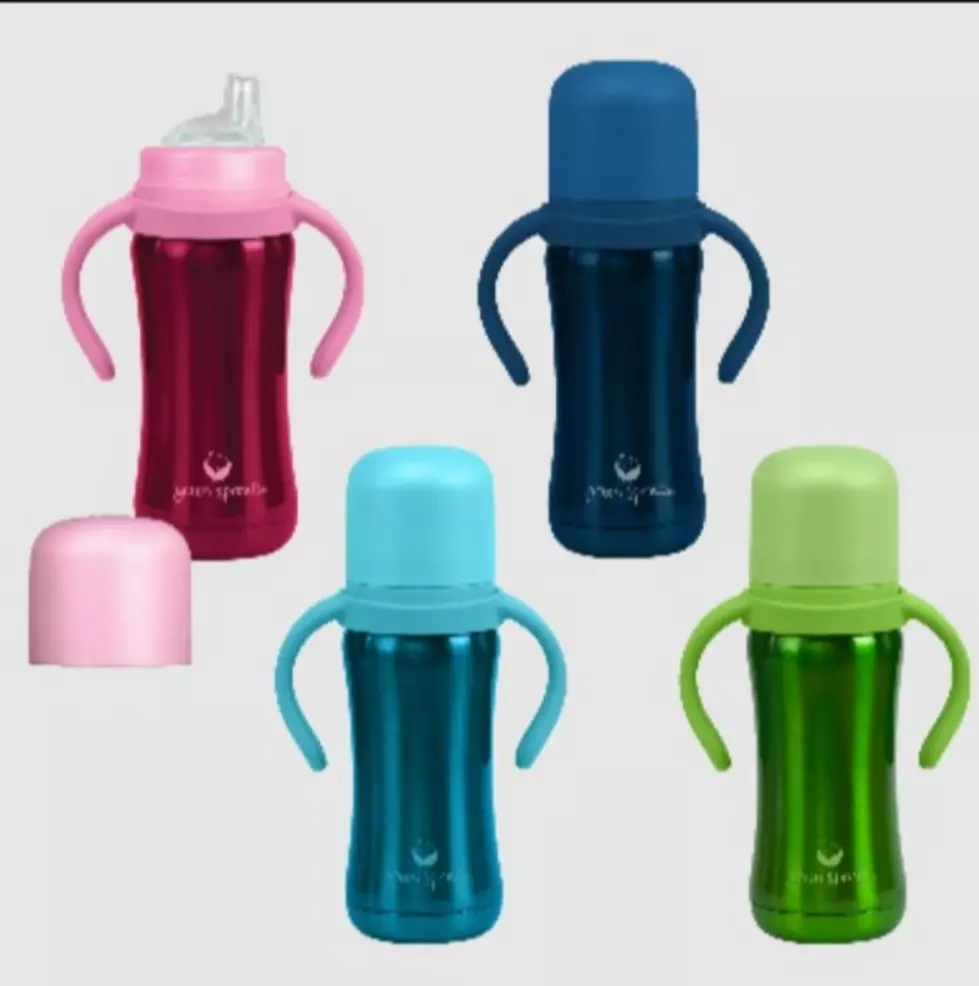 Botellas y vasos vendidos en el estado de Nueva York pueden envenenar a adultos y niños
United States Consumer Product Safety Commission.
Las botellas y vasos vendidos en el estado de Nueva York y en línea han sido retirados del mercado debido a un "peligro de envenenamiento".
Green Sprouts ha retirado del mercado 10,500 botellas de pajita de acero inoxidable, vasos para sorber y vasos para sorber y pajita.
Botellas y vasos vendidos en Nueva York pueden causar envenenamiento por plomo
Los fondos de las botellas y vasos de acero inoxidable retirados del mercado podrían romperse. Esto expondrá un punto de soldadura que contiene plomo, lo que representa una amenaza de envenenamiento por plomo para el niño, según la Comisión de Seguridad de Productos del Consumidor de los Estados Unidos.
"El plomo es tóxico si lo ingieren niños pequeños y puede causar efectos adversos para la salud", afirma la Comisión de Seguridad de Productos del Consumidor en su aviso.
For all the news that the Hudson Valley is sharing make sure to follow Hudson Valley Post on Facebook, download the Hudson Valley Post Mobile App and sign up for the Hudson Valley Post Newsletter.
Información de recuperación
Este retiro del mercado incluye vasos y botellas de acero inoxidable Green Sprouts de 6 oz y 8 oz con números de seguimiento 29218V06985, 35719V06985 y 33020V06985. Los números de seguimiento se pueden encontrar en la parte inferior de la base.
Las botellas retiradas del mercado se vendieron en colores agua, rosa, verde y azul marino con tres opciones de cierre:
Boquilla de silicona con tapa, cuello y asa de plástico de colores
Una boquilla con boquilla de silicona y una boquilla con pajita con tapa, cuello y asa de plástico de colores
Una pajita de silicona con una tapa abatible de rosca de plástico.
Las botellas retiradas se venden en dos tamaños con los siguientes números de seguimiento:
6 oz Stainless Steel Sippy Cup
29218V06985 or 35719V06985
6 oz Stainless Steel Sip & Straw Cup
8 oz Stainless Steel Straw Bottle
29218V06985 or 35719V06985
Qué hacer si compró un artículo retirado
"Los consumidores deben retirar inmediatamente las botellas y vasos de acero inoxidable retirados del alcance de los niños y desechar las botellas y vasos. Comuníquese con Green Sprouts para obtener un reembolso completo en forma de crédito de la tienda o le devolvemos su dinero. Green Sprouts se está comunicando directamente con todos los compradores conocidos". Comisión de Seguridad de Productos de Consumo, dijo.
Incidentes o Lesiones
En el momento de escribir este artículo, se ha roto la base de al menos siete botellas, dejando al descubierto el plomo. Sin embargo, no se han reportado heridos.
vendido en
Los biberones se venden en las tiendas Buy Buy Baby y Whole Foods en todo el país, así como en línea en Amazon, Buy Buy Baby y Bed Bath & Beyond desde enero de 2020 hasta septiembre de 2022.
LOOK: Here's where people in every state are moving to most
21 Places You Might Run into a Celebrity in The Hudson Valley
Hollywood on The Hudson is real! It seems like there's a new celebrity sighting in the Hudson Valley. Here are a few of the hot spots that you may run into a celeb while walking around town.
Top 10 Most Stolen Vehicles In New York State
Vehicles from 2016 and earlier were the most stolen vehicles in New York State.
19 Of New York State's Most Wanted Criminals- December 2022
Below are individuals wanted by the New York State Department of Corrections and Community Supervision's (DOCCS) Office of Special Investigations who have been designated as its
Most Wanted Fugitives
. They should be considered armed and dangerous. This list is current as of 12/01/2022:
NEVER attempt to apprehend a fugitive yourself. If you have information on the location of any of these fugitives, you can contact OSI 24 hours a day / 7 days a week to report it. All leads and tips are treated as confidential information.
If an immediate response is necessary, such as you see the wanted person at a location, please call "911" and report it to the police.
25 Craziest UFO Sightings in New York in 2022
New York residents see a lot of weird things in any given year, but some of us claim to see things outside the normal level of New York weird like UFOs.