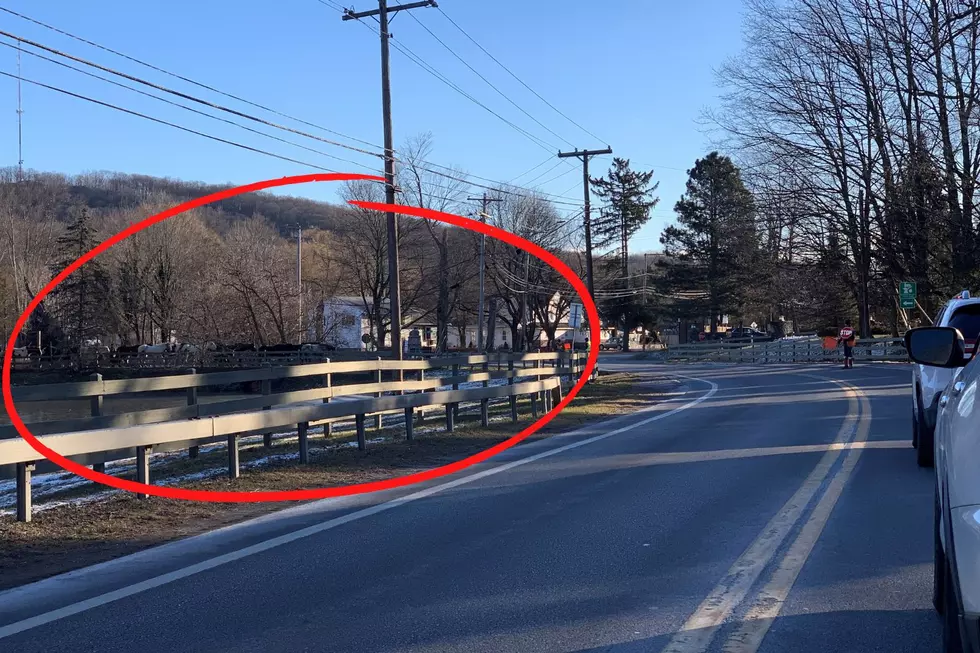 La razón inesperada detrás del atasco de tráfico de las 8 a. m. el 44/55
Jonah/TSM
Lo último que desea encontrar en su viaje diario por la mañana es un atasco de tráfico. Bueno, por lo general. Resulta que hay una copia de seguridad diaria en el valle de Hudson que vale la pena esperar.
Hay muchos "secretos" de tráfico en el valle de Hudson si sabe dónde buscar. Por ejemplo, ¿sabía que un cierre en el puente Mid-Hudson enviará a los conductores a un camino casi oculto que sigue el enfoque del tramo original? Pero volvamos al impresionante atasco de tráfico.
Trafico en 44/55  Highland, NY
El "culpable" que hace esperar a los conductores diarios en 44/55 en Highland, Nueva York, no es otro que Rocking Horse Ranch, y la causa está en su nombre. Los huéspedes viajan de todo el país para hospedarse en el famoso resort, y muchos buscan una experiencia equina. Pero, ¿cómo lleva Rocking Horse Ranch sus 119 caballos de los establos a los terrenos del hotel? Es un proceso muy detallado que implica detener el tráfico en ambas direcciones.
Cruce de caballos en Rocking Horse Ranch en Highland, NY
La configuración del cruce de caballos refleja una zona de construcción. Los conductores que se acercan primero ven señales de tráfico naranjas que los alertan sobre la acción que se avecina. También hay soportes para banderas y letreros listos para detener el tráfico en ambas direcciones. Luego, cuando es seguro, los caballos comienzan su viaje (abajo). Aquí es cuando "atrapar" el programa.
Cómo funciona el cruce de caballos
En mi experiencia personal de manejo, los guardias de cruce están en sus posiciones a las 8:15 am los días de semana. Hoy, la travesía a caballo comenzó a las 8:20 am en punto. Parece que se hace en dos grupos separados, permitiendo que los autos detenidos continúen sus viajes antes de detener el tráfico nuevamente para el segundo cruce.
Hablando de caballos fantásticos, echa un vistazo a la increíble sesión fotográfica de maternidad a continuación y sigue desplazándote para ver el espectacular rescate de un caballo de una piscina en el patio trasero del norte del estado de Nueva York.
Hilarious Horse Photobomb Has the Whole Hudson Valley Laughing
Happiest Horse Ever Photobombs Couple
Horse In A New York Backyard Pool?! See The Dramatic Rescue Photos
God Bless our amazing First Responders. They have to see and react to unique situations every day to save not just human lives, but also those of our four-legged friends. This past weekend a horse-faced a life or death situation after getting caught in the cover in someone's backyard pool in Bohemia, New York. Thankfully, the
Bohemia Fire Department
came to the rescue.